The natural history museum as a site of struggle
Since May of 2016, I have been a researcher with The Natural History Museum. The Natural History Museum is a mobile and pop-up museum based out of Brooklyn, NY that seeks to highlight the socio-political elements of science, climate change, and natural history traditionally excluded from museums. We argue that when reinvisioned as sites of ideological struggle over the meaning of nature and humanity, museums alternatively become possible infrastructures for reclaiming the common. Our political practice involves creating exhibitions, expeditions, tours, and public programming that seek to re-position museums as political actors capable of responding to global climate chaos.
More info:
http://thenaturalhistorymuseum.org/
Not An Alternative, "Institutional liberation"
E-flux
.
http://www.e-flux.com/journal/77/76215/institutional-liberation/
Not An Alternative, "The National Park Service Goes Rogue."
Jacobin
.
https://www.jacobinmag.com/2017/02/donald-trump-bureaucracy-national-park-service-smokey-bear
Kai Bosworth and Steve Lyons. "Museums in the Climate Emergency." Forthcoming, in
Museums and Activism
.
Powered by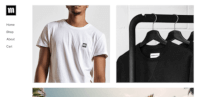 Create your own unique website with customizable templates.